I finished getting Excorporate and all its dependencies into GNU ELPA. Excorporate lets Emacs retrieve calendar items from an Exchange server.

I had to rewrite the default UI to use Org Mode, because Calfw isn't entirely copyright-assigned to the FSF yet. The Calfw UI is still there for reference, but as a text file so that GNU ELPA's build and publishing steps ignore it. Both UI handlers use the same updated APIs from the main excorporate.el library.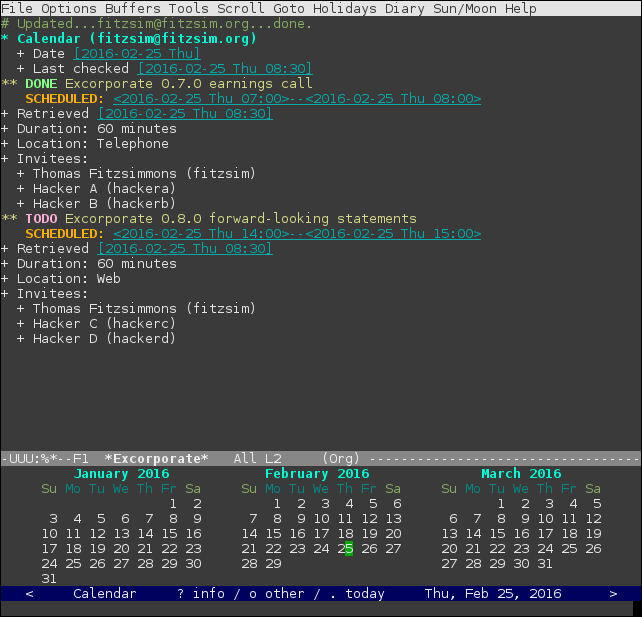 I made sure Excorporate and all its dependencies use only features available since GNU Emacs 24.1. This is pretty good coverage; Emacs 24.1 introduced the packaging system, so if an Emacs version supports packages, it supports Excorporate.
Other than DNS lookups, Excorporate is completely asynchronous, so it won't block the Emacs main loop. And it is pure Emacs Lisp so it runs on any operating system that Emacs does.
In addition to Org Mode support, release 0.7.0 collects all the suggestions users have made on this blog and adds Exchange 2007 support.
To install: M-x package-install RET excorporate
To get the source code:
git clone git://git.savannah.gnu.org/emacs/elpa.git
To report bugs: M-x report-emacs-bug